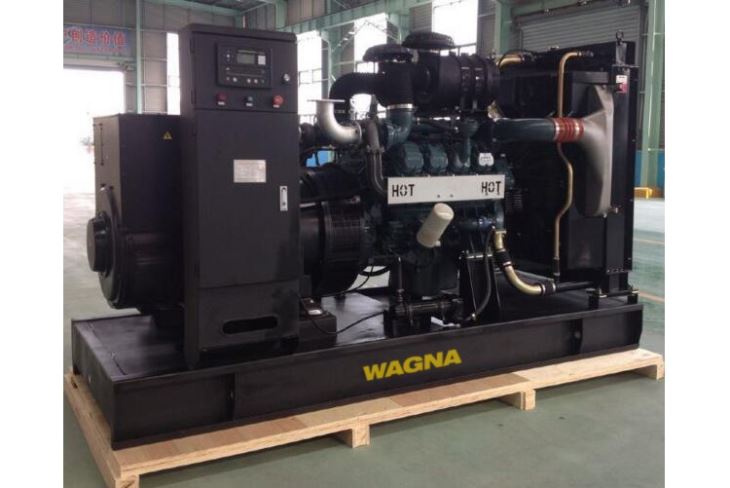 Add to Favorites
Share
Residential 400kva Diesel Generator backup
Payment

Origin

China Mainland

Minimum Order

5

Packing

Pieces
Product Detail
370kw 400kva Doosan diesel generator




Specifications:

Residential 400kva Diesel Generator backup

Brand Name: Wagna

Model Number: DL400DO-50

Engine: DP158LC

Prime Power: 370KW 400KVA

Voltage: 400V/230V adjustable

Speed: 1500/1800 RMP

MOQ: 1 pcs

Alternator:Stamford/WAGNA/Leroysomerr

Controller: Deep Sea/SmartGen.




Product parameter:

Residential 400kva Diesel Generator backup

Unit Model set

DL400DO-50

Power

Prime

Standby

Unit Power rate (KW)

370

400

Engine Power rate(KVA)

462

500

Engine Model

DP158LC

Engine manufacturer

Doosan engine

Engine structure

V type 8 cylinders, four stroke, naturally aspirated

Engine cooling modeling

40°C water tank radiator, cooling fan with fan belt drive, safety shield

Governing system

Electronic speed regulation control system

Start mode

24V DC electric start,and equipped with silicon rectifier charging generator

Fuel System

High pressure fuel pump, electronic regulation

Total engine displacement(L)

14.6

Bore*Stroke(mm)

128*142

Compression ratio

15:1

Fuel Consumption of 100% load (g/kw·h)

213

Oil Capacity (L)

13~22

Coolant Capacity(L)

79

Rated voltage / frequency /power factor

400V/230V, 50Hz, 0.8 hysteresis, three-phase four wire

Steady-state frequency change rate

Better than 5%

Insulation Class / Protection Grade

Class H/IP22/23

Telephone influence factor / harmonic coefficients

TIF<50/THF<2%

Maximum noise level (dB)A

=108

Standard accessories

A start battery and a connecting wire,exhaust pipe, corrugated pipe, flange, damping muffler of a base, a shock absorber

Dimension (mm)

2850*1400*1800

Weight (kg)

3000

Ps. Data of above table changes sometime, for reference only.




Product show:

Residential 400kva Diesel Generator backup

***Picture for guidance purpose




Engine:

FUEL CONSUMPTION

Prime Power (lit/hr)

1,500 rpm

1,800 rpm

25%

27.6

32.3

50%

48.9

57.7

75%

72.9

83.4

100%

99.6

111.5

Standby Power (lit/hr)

1,500 rpm

1,800 rpm

25%

29.6

34.9

50%

53.4

62.7

75%

80.5

91.4

100%

110.9

123.8




Alternator Feature:

Brand ( select-able): Wagna/ Stamford JCI544C / Leroy-Somer etc.;

? Brushless, 4 poles, rotation magnet.

? IP21-23 enclosure is standard for all industrial alternators.

? The insulation system is Class H.

? Simple installation and maintenance, with easy access to terminals, rotating diodes and coupling bolts.

? Wide range of flange adaptors and single bearing disc coupling.

? Standard 2/3 pitch windings avoid excessive neutral currents.

? Optional accessories available for easy paralleling with mains or other generators.

? Optional permanent magnet generator ( PMG ) system provide constant excitation under all condition.

? AVR auto voltage regulator, auto exciter, auto adjustment.

Optional Parts:

? Silent trailer/portable trailer

? Soundproof/rainproof enclosure

? ATS

? Remote system

?50? coolant tank

?Base frame fuel tank / normal fuel tank

?Oil / water separator

?Fire extinguishing type silencer of heavy industry

Testing Items of Power Friend Genset:
1) Parts fault testing
2) Fue tank pressure testing
3) Bolt tightening torque testing
4) Painting thickness testing
5) Voltage bearing and insultion testing
6) Noise testing
7) Loading testing: All qualified generator sets are subjected to a comprehensive performance test which inclides 0% load, 25% load, 50% load, 75% load, 100% load and 110% load and to check, verify that all control systems, alarm and shut-own protection.




Guarantee:
1) Guarantee Period: One year or 1000 running hours, depends on whichever comes first.
2) During the guarantee period, the spare-parts will be sent through your shipping agency in China.
3) Spare-parts can also be sent by air express.
4) 24 hours service hotline is available for customers.
5
YRS
Guangdong Wagna Power Technology Co.,Ltd
China
Favorites